Houston Volunteer Fire Company Kent County, DE – 2008 Chevrolet Suburban / DPC Conversion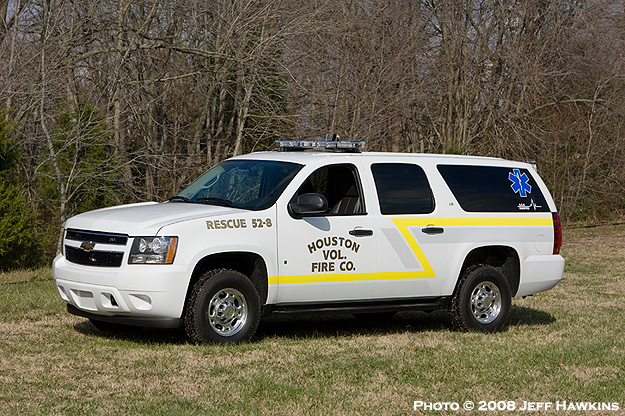 Client Name: Houston Volunteer Fire Company
State: Delaware
Chasis:
Vehicle Type:
Manufacturer: DPC
Year: 2008
Sales Person: Mike Heston
The Houston Volunteer Fire Company has added this 2008 Chevrolet Suburban to it's fleet. Outfitted by DPC Emergency Equipment, the unit will be utilized as an EMS quick response vehicle and replaces an older Chevrolet Suburban. DPC's expert staff fabricated a custom center console mounted between the front seats which holds a Motorola Astro mobile radio, Federal Signal PA300 electronic siren, warning/scene light controls, Motorola portable radio charger, and features two (2) integrated cup holders. The console also features a rear section for map books and binders. Mounted on the rear of the console is a laptop docking station that allows for the computer to be used by either seating position in the second row. In the rear of the vehicle, custom aluminum cabinetry allows for a vast array of storage options. Three roll-out trays provide easy access to equipment. The center console, rear cabinets, and slide-out trays are all coated with black Line-X. A Kussmaul Super Auto-Eject outlet is located below the rear bumper adjacent to the left of the tow hitch. A Code 3 RX2700 LED lightbar along with a 3M Opticom emitter are situated on the roof while two (2) Code 3 LED lights are tucked away behind the front grille. In addition the front and rear light assemblies are outfitted with hideaway LED lights.
Interested?
Click the button below to learn more
DPC Emergency Equipment
Company Mission
DPC Emergency Equipment Company Mission To assist firefighters in protecting lives and property by providing the best "One-Stop-Shop" in Delaware and Maryland for complete emergency vehicle sales, certified service, and custom fabrication. It is our vision that all fire and emergency apparatus owned and operated in Delaware and Maryland will meet NFPA, ISO, and DOT recommendations and requirements.
Our dedicated sales team, our parts department and our service department are here to assist in any way. Get in contact with us today so we can answer any questions you might have! We look forward to talking with you.
We offer an amazing work atmosphere. We are always seeking out great talent to add to our team in many different areas. Do you have what it takes to become a part of the DPC Emergency Equipment team? View current jobs & apply.
Subscribe to our mailing list
We work alongside CLP (Community Leasing Partners) to help anyone who wants a new fire truck, ambulance, or specialized emergency vehicle. Click the link below to get more information. As always we can assist in the process as well. Contact us at any time. We look forward to working with you!
7:00AM to 4:00PM / Parts Delivery 8:00AM to 3:00PM
We are affiliated with the following:


Like us to see updates on new orders and deliveries!