La Plata Volunteer Fire Department / DPC Brush Truck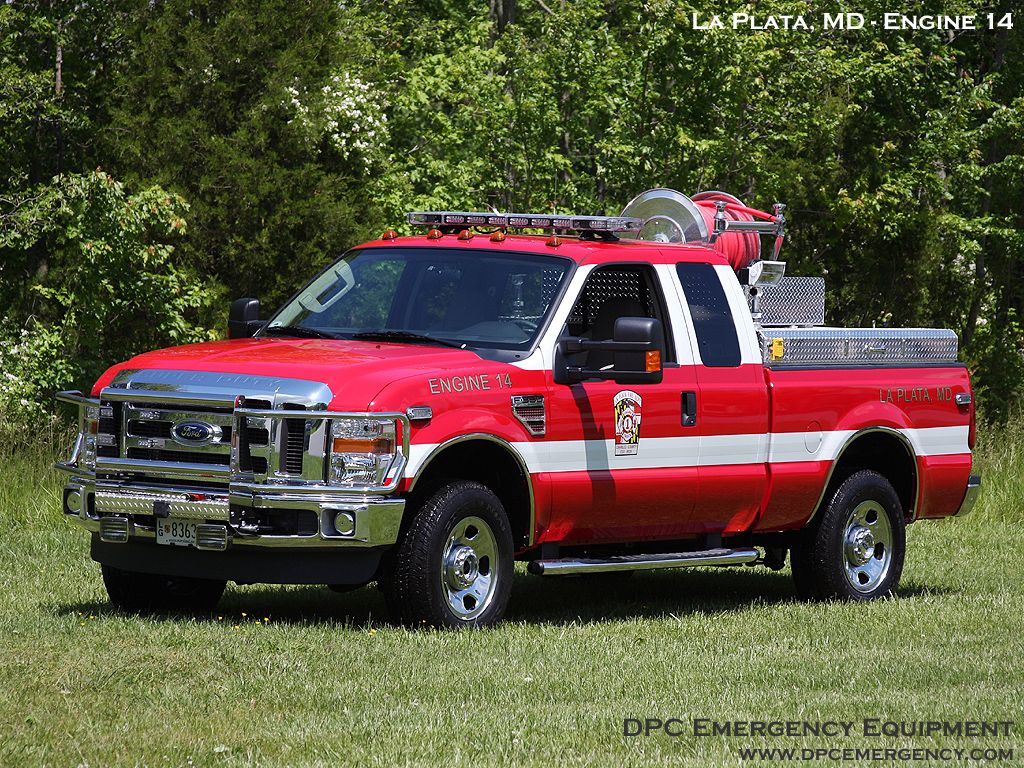 Client Name: La Plata Volunteer Fire Department
State:
Chasis: 2008 Ford F-350 4x4
Vehicle Type:
Manufacturer: DPC
Year: 2008
Sales Person: Mike Heston
An additional 100' of pre-connected 1-1/2" hose is stored in a speedlay style tray under the driver's side storage compartment and is accessible from the rear of the vehicle. This tray is removable to allow for easier repacking. In addition, there is also a hose trough located on top of the water tank which serves as a deadlay for 100' of 1-1/2" hose. An 18" riser was constructed to bring the pump controls up to the top of the tailgate. Along with basic controls, a light to illuminate the gauge panel and a fuel level gauge can also be found on the control panel. Custom mounts were fabricated and installed at the rear of the bed to secure the chainsaw, oil, fuel, and related items. Whelen 295HFS electronic siren, controls for the warning lights, two (2) cup holders, and a small storage bin. The rear of the console has ample room for mapbooks and binders. In the extended cab area, the floor and rear wall was overlaid with diamond plate for durability and to provide a stable surface to mount equipment. Another busy area is the front bumper. A brush guard, portable winch receiver with 12-volt connection, and Perlux fog lights adorn the front of Engine 14. There are also two (2) Cast Products siren speakers recess-mounted in each side of the front bumper. The rear bumper features a permanently mounted (brand name) (capacity) winch and two auxiliary backup lights.
Interested?
Click the button below to learn more
DPC Emergency Equipment
Company Mission
DPC Emergency Equipment Company Mission To assist firefighters in protecting lives and property by providing the best "One-Stop-Shop" in Delaware and Maryland for complete emergency vehicle sales, certified service, and custom fabrication. It is our vision that all fire and emergency apparatus owned and operated in Delaware and Maryland will meet NFPA, ISO, and DOT recommendations and requirements.
Our dedicated sales team, our parts department and our service department are here to assist in any way. Get in contact with us today so we can answer any questions you might have! We look forward to talking with you.
We offer an amazing work atmosphere. We are always seeking out great talent to add to our team in many different areas. Do you have what it takes to become a part of the DPC Emergency Equipment team? View current jobs & apply.
Subscribe to our mailing list
We work alongside CLP (Community Leasing Partners) to help anyone who wants a new fire truck, ambulance, or specialized emergency vehicle. Click the link below to get more information. As always we can assist in the process as well. Contact us at any time. We look forward to working with you!
7:00AM to 4:00PM / Parts Delivery 8:00AM to 3:00PM
We are affiliated with the following:


Like us to see updates on new orders and deliveries!